e-Hundi
e-Hundi allows donations from people across the globe for the welfare of the sacred Sri Jagajjanani Ammavarla Devasthanam. Devotees can offer their donations via internet banking.
More Info
Sevas & Darshanam
In a world, that's filled with the essence of Jagajjanani, one can now wholeheartedly worship Sri Jagajjanani from anywhere in the world.
More Info
Annadhanam
Offering one Annadhanam is equals to donating 1000 elephants, a crore cows, gold and land that extends until seashore; fulfilling all duties of a family.
More Info
Goshala
During the Abhishek of the deities in the temple and for other auspicious ceremonies, the shastras have enjoined the use of cow dung and cow urine, as their spiritual, medical and purifying qualities are greatly beneficial
More Info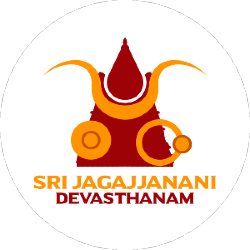 Jagajjanani TV
Jagajjanani TV is a 24 x 7 Webcast devotional channel in Telugu which caters to the people of Hindu religion. It was launched on October,2022. It is from Sri Jagajjanani Devasthanam Product.
It's south India's first, Sri Jagajjanani devotional channel on Telugu. The channel telecasts fiction and non-fiction programs.
Sri Jagajjanani Nandyal is the creator of the universe. In the early days of the creation of the all-pervading world, Ammavaru spontaneously rose to prominence in the world, in India, in the Himalayan mountains of Jammu and Kashmir at an altitude of 19,500 feet above sea level.

The Manasarovar was located close to the temple. Our mythological texts and Vedas state that all the three deities bathed in this lake during the Brahmi Muhurta and visited the Goddess.
Seva & Darshanam
Main Offerings
Photo Gallery
The Beauty of Sacred Sri Jagajjanani Devasthanam